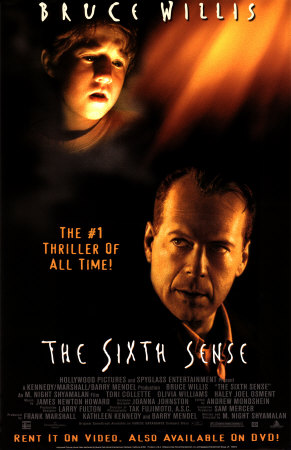 Dr. Malcolm Crowe is a successful child psychiatrist and happily married to Anna. Returning home from an awards ceremony, Malcolm's confronted by Vincent Grey, a distraught former patient who shoots Malcolm and commits suicide. Months later, a recovered Malcolm meets with Cole Sear, a shy and troubled 9 year-old boy. Cole has been experiencing disturbing situations he can't fully understand. His mother, Lynn, is concerned about his withdrawn and fearful behavior and attributes it to her recent divorce and Cole being bullied by school classmates.

Initially, Cole is uncomfortable talking to Malcolm but comes to trust him and confides, "I see dead people." He says the ghosts don't always know they are dead. Malcolm diagnoses Cole as delusional, noting he shares similar symptoms to Vincent Grey. Eventually, Malcolm realizes Cole really is able to communicate with the dead (as was Vincent). He believesthe ghosts are benevolent and tells Cole the spirits somehow find their way to him for his help.

Since the shooting, Malcolm and Anna, have grown apart. She has become depressed and uncommunicative. Malcolm unsuccessfully reaches out to her, and is upset when it appears she is seeing another man.